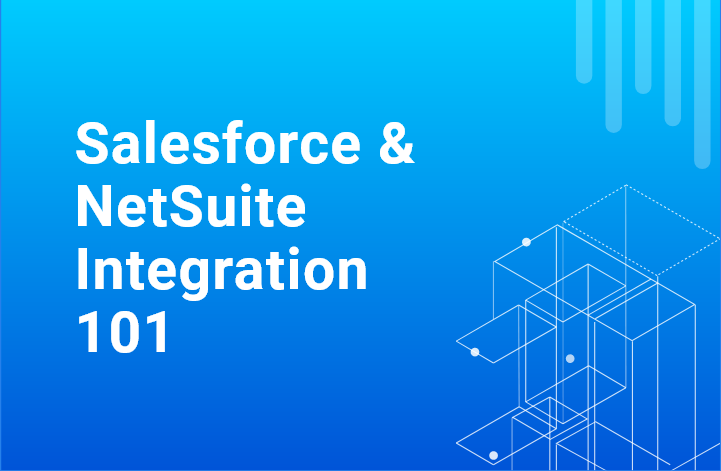 Integrating Salesforce and NetSuite can seem daunting at first, but it doesn't have to be. With the right tools and planning, you can ensure a successful integration that meets the needs of your business.
In this guide, we'll walk you through the key considerations for integrating Salesforce and NetSuite, as well as some tips and best practices. By the end, you'll have a better understanding of the Salesforce and NetSuite Connector/Integration, and be able to make an informed decision about whether it's right for your business.
Things to plan ahead when integrating NetSuite and Salesforce
Integrating Salesforce and NetSuite can seem daunting at first but with proper planning, it can be a relatively smoother and less stressful process. Here are some things to keep in mind when preparing for your integration:
1. Business process and data mapping
This process also involves defining the data that is going to be mapped out in both systems.
This includes understanding how the data will flow between both systems and defining the steps needed to complete a task. Some things to consider when mapping out the process include:
A. Which system will handle which processes?
Identify which stage in the lead to cash process will be completed in each system. This will help determine which processes need to be mapped out and how the data will flow between both systems.
Source of truth
Additionally, determine the source of truth; what records will reside where and determine its source of truth, also known as a source of record, or system record owner. The source of record is the system where the data will live and be maintained.
B. How will data be synced between the two systems? and how often or what is the frequency of data transfer/flow? or is there a specific trigger?
There are two-way and one-way synchronization. In a two-way sync, data is synced in both directions while a one-way sync sends data from one system to another. It's important to decide which type of synchronization is best for your business needs and processes.
Optimal integration schedule
It is important to understand when you need the data and how often the data changes. Changes in data can trigger process and data synchronization, so it's important to consider how often this occurs and plan your integration schedule accordingly. Consultants must be able to identify the optimal schedule of integration whether it is built for real-time, scheduled, or through batch integrations.
Aside from knowing the timing/frequency, you must also be able to narrow down the criteria for integration. Obviously, not just any change would trigger it, right? Determining all potential triggers is crucial to successful integration.
C. What data needs to be synced?
This includes understanding what data needs to be synchronized between both systems and how often it needs to be updated. It is important to note that not all data needs to be synchronized between both systems. Only the data that is required for the business process should be synchronized. These are the commonly scoped data objects in the Salesforce-NetSuite integration:
Accounts

Contacts

Items

Opportunities

Work Orders

Service

Quotes
2. Data transformation
It is the process of converting data from one format to another. In the context of integrating Salesforce and NetSuite, it is the process of converting data from either Salesforce and NetSuite or from any locally or cloud hosted file to be used in the integration.
3. Data cleansing
It is the process of identifying and removing data that is inaccurate, incomplete, or irrelevant. This is important because it can help reduce the amount of data that needs to be transformed and improve the quality of the data being used in the integration.
Most data can easily be translated in both NetSuite and Salesforce environments. For example, Accounts will still be Accounts on both sides of the fence and Customers are Customers but certain data elements may not easily be translated back and forth.
Moreover, moving data between these two systems is crucial in the integration that's why it often determines the success or failure of the integration as resolving issues that stem from broken data can cause businesses time and money. There is a need to ensure that no data is lost in translation.
4. Sandboxing
A sandbox is a copy of your production environment used for development and testing purposes. It is important to have a sandbox environment because it allows you to test the integration without affecting your live data. Sandboxing allows the consultants to simulate scenarios and test the integration to determine if they meet the client's specific requirements. This will help avoid any disruptions to the business and prevent any data loss.
The methods of integrating NetSuite with Salesforce
There are many ways of integrating both NetSuite and Salesforce and it is important for a business to understand their business requirements and business process, The method of integration largely depends on the time and budget the business is willing to expend in the integration process but generally, most businesses opt for third-party integration solutions providers like Excelym.
1. Integrating through NetSuite Solution Provider Partners
The most popular method in integrating both NetSuite and Salesforce. NetSuite Solution Provider Partners like Excelym have their own proven Connector products that encapsulate both software in a single solutions framework. This method is also the most cost-efficient, and convenient because Solution Provider Partners have years of experience integrating both software in a number of different business industries and sectors.
2. In-house NetSuite and Salesforce Integration
Some companies opt to do the integration with their in-house developers but integrating NetSuite and Salesforce is not as straightforward as it seems and businesses will not be able to leverage the seasoned experience of consultants like Excelym. Businesses will need to tap and hire developers for the integration process and end up the cost of maintaining the integration might end up costing more than hiring business solutions providers upfront.
3. Integrating thru off-the-shelf solutions like Celigo and Dell Boomi
This method is popular for organizations with simple requirements and has the internal resources to do the configuration and implementation themselves (DIY). As soon as the integration requirements become complex and/ or the demand in volume becomes significant, then this method is no longer cost-effective. Furthermore, industry household names like Boomi and Celigo are based on flat costs plus transaction charges. This makes it hard for users to extend their product features and functions, which might be crucial in the growth of their businesses.
Advantages of Integrating Salesforce with NetSuite:
With NetSuite ERP and Salesforce CRM, the entire process from lead generation to invoicing/fulfillment is automated and can be monitored in real-time. This gives businesses the ability to adapt to the rapidly changing demands of their clients, customers, suppliers, and vendors. It also efficiently improves timeline management and sales accuracy.
Customer experience is considerably improved when the sales and order fulfillment processes are automated, with the help of CRM software features like recording client information and history. Customer support is enhanced by reducing wait times. There is improved consumer satisfaction by solving their issues and difficulties as soon as possible.
Apart from improving the Customer Support Process the productivity of the Customer Support Department of the Business is also increased because of the improved accessibility to customer information and real-time access to the contract lifecycle from order, fulfillment, and invoicing.
Integrating both NetSuite ERP and Salesforce CRM important business information like customer data, inventory, and the supply chain is synchronized in real-time reducing errors and improving the efficiency of the sales process. The practice of integrating NetSuite and Salesforce is common across different industries and sectors because of the combined advantages they bring to the business.
Key areas improved with the NetSuite and Salesforce integration
Salesforce's 'Customer Information' is synchronized with NetSuite's 'Accounts' for real-time tracking of customer history and information from the front and back offices. This allows for easier tracking of customer interaction from beginning to order fulfillment.

The 'Products' are in sync with the quantity available in the inventory and provide real-time updates on warehouse stock, and product pricing. Minimizing mistakes in the sales quotes and estimates at the same time forecasting the demands of the customers.

The sales process is accelerated by streamlining the conversion of a potential client to a sales order by automating the creation of orders from Salesforce and Syncing it to NetSuite. Salesforce allows businesses to create accurate sales quotes and generate sales orders in real-time.

More importantly, customer support is improved with synchronized customer information like invoices, orders, credits, holds, and the sales cycle. There is increased customer satisfaction by allowing sales representatives and support representatives to provide real-time information to customers about their orders on demand.
Integration best practice tip
In one of our projects, Salesforce was the system of record/ source of truth for customer and product data, any additions and updates were seamlessly fed to NetSuite. Sales Opportunities arising from Salesforce are automatically updated to sales orders in NetSuite when the deal is closed. Furthermore, sales fulfillment, invoicing and revenue recognition occur in NetSuite and are seamlessly synchronized with real-time updates in Salesforce. 
Integrate Salesforce and NetSuite today!
Businesses don't have to start from scratch, which would be both costly and time-consuming. We take care of the strategic and technical aspects of the integration no matter how simple or complex it is so businesses can focus on their core competencies.
If you are considering integrating Salesforce and NetSuite, we recommend working with a consultant like us in Excelym who has experience in both systems. This will ensure a successful integration.
Get a professional Netsuite implementation by either implementing it yourself or have us implement it.